What motivated you to adopt a disability cat?
They are the ones who need the most love, since it is more difficult for them to get a house
When did you adopt it?
At an adoption fair they did in Plaza Lincoln, since we saw "Paquerita" we clicked and fell in love <3
How do you feel about this adoption today?
We adore Valentina, she has a very special character and x her own situation is not so "social" but even so she manages to show us her affection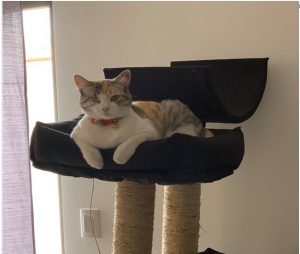 We are happier every day with Figobertoo Figo has fitted in perfectly with everyone in the family (Except for the consensual zagüata, he can barely tolerate it haha) He is a very patient learning hunter because he can spend hours seeing the same place where he saw a lizard and the next day also without getting bored 😂.
It has already brought us from half a mouse to drones, cockroaches and the most recent almost an almost complete bird😭, She loves going to my aunt's house that is on the same property and she accompanies her at times or even I know she is bored, then she goes to bed on his laptop and parkour around the house. Zero tortero, mega well-behaved and obedient, we had a mega scare when he spent 6 days without coming back😱like in mid-March and just as he went back hitting "shouts" at 3:00 a.m. thinner and by the way the gentleman no longer leaves the house for joy, only love, chineo and food he wants.
We are giving him the food that Total Nutrition recommended to us, which has improved his digestion a lot since he does not suffer from flatulence because we had made the very serious mistake of giving him Catchow. He enjoys his days doing what he wants and we have been discovering his personality little by little and he is opening up more with us.
The happiness is so much that as soon as the situation of the pandemic is normalized a little, we want to get him a little sister to play because the dog is also jealous and is super hateful with him and does not give him anything at all.
Adoption date February 4, 2020.
I had cats many years ago, my husband never then thought we want but we were uncertain about how we were going to go but still with the idea that he was going to love him and give everything he will need and we wanted a tender pussycat. We are a couple who have always thought that adopting is giving quality of life to those who encountered that luck since they were born and if they are an adult much more than that old age is of quality and that they know love and living well in a home that perhaps they never had, with the photos I did not decide because they are all beautiful with the model it is impossible to choose just one.
Adoption date January 2020.
When I saw the photo of Sol it was something strange, something told me, it is her, I had already seen many photos of other cats but when I saw Sol, although it was only an image, we felt very safe to adopt it.
We waited a lot for her, and when they brought her to the house everything was very positive, she adapted very quickly to us and to the environment, what took her a bit was to adapt to Cholo, the house dog, but in less than One week he was overconfident with Cholito, now it is Cholito who has a hard time adapting, Sol has too much energy and whenever he can he bothers him and bites, playing that yes. Having adopted Sol is something very positive, it has taught us a lot, to develop a lot of patience and love, we learn more from animals than they do from us, and they unconditionally give a lot of company and affection. This month Sol is one year old, she was a kitten with a difficult start, as María Fernanda tells me, it took a couple of miracles for her to stay with us, but who sees her now so big, strong, full of energy, no I could believe what happened.
Adoption date 12/20/2019
Before: we had always wanted to have a baby cat, because the ones we had had before were already big. After: it fills us with a lot of love, happiness and we would not change it for any other What motivated you to adopt? Being able to give a rescued kitten the opportunity to have a home
Adoption date: February 22, 2020
Before many good expectations, later very happy with the new member
What motivated them to adopt? A pet for my children since they wanted one
New name Sonic
The experience has been successful Sonic has adapted very well and we are very happy with him
Currently weighs 4.8 k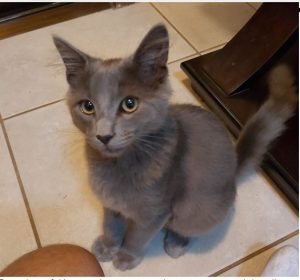 Adoption date: December 2019 (I can't remember the exact day)
Thoughts: We knew that cats were excellent pets for being independent and at the same time excellent companions. Then we check it. My boyfriend says that before he really didn't want to because he thought it was going to give a lot of work and now he thinks it wasn't so much work and he loves it very much ❤️
We were motivated by the difference that pets make in the lives of children, because of space and work we could not have a dog and in the end the cat turned out to be the best idea. We have realized that they entertain each other, Nico and Simon play a lot and you can tell the difference when Nico is not there because Simon is full energy until late 😅
I think they had little of having it when we adopted it so it had no name. My son named him Simon after the YouTube videos, we know that Simon is the owner, but we decided that if people confuse the monster with Frankenstein, it is worth giving the name of the owner to the cat.
I saw Pimienta published on FB the first week of January 2017. It was just a little black ball, all mini. I wrote too excited because since I saw her I knew that we were her family. Natalia was the one I spoke to and she herself told me that everything I wrote to have her made her feel that yes, we were her family.
I know she was in a slum in Alajuela, nothing is known about her family. At home we already had Pantufla, who is 7 years older than her. I studied a lot how to present them and I prepared the whole house and even my work schedule to be able to make the presentations gradually and that it was not a shocking process for any of them. This year she is already 4 years old. It's like 10 times bigger than when we brought it in. The love of her entire life is my husband, and if it were up to her, he would live by her side forever. His favorite place to sleep: under the covers all morning, every day 😂. I don't know how he breathes there 🤷🏻‍♀️. I tattooed it on one arm, I have Slippers on the other. Pimienta is loved, chineada and just wants to be with her parents always. She is a very loved kitten.
Name: Ronron,
we left him the same name because it seemed perfect for him because he is always purring. Before adopting we did not know how much we could help one of these kittens. Now, whenever we see him, we think about how badly he must have gone before, with cold hunger and lack of love. And now that he sleeps with us, has food, and full of love makes us feel super good.
We were motivated to adopt the fact that our acquaintances and relatives who have cats have also adopted and are super happy
Nico came into our lives after much thought, because we lost a kitten that was with us for 14 years, and it was quite sad, my currently 17-year-old son grew up with that kitten. My son is an only child and we really thought about it enough to adopt again. A year ago, after much thought and many pleas from my son, we agreed to receive a new kitten, with a lot of emotion, we bought everything, and we were ready to adopt.
Nico arrived in May 2019, and he is my son's company in everything, they study… they sleep… they play. Nico is very chineado and does not like to be alone, so he is always company for everyone in the house, he loves to sleep in the afternoon, and he is very playful.
If someone gets sick at home, he always takes care of the sick, keeping company… it is as if he knew and stayed to "take care of him", my mother accompanies her every day to pray at 6 in the afternoon. There are many positive things that came out of adoption and I am glad I made the decision.
I adopted Uma on July 14, 2019.
I already had Zelda, also adopted, so I was nervous about the adaptation and introduction process. In the end Zelda turned out to be the best older sister in the world, and I accept Uma in full at the week.
I decided to adopt another cat, since sister Zelda had died a few months ago, I adopted them together, and I decided to adopt another so that Zelda will not be left alone, since she had always been with her sister. At first I was reluctant to adopt, the mourning process was very hard, but when I saw Uma's video, I knew that it was she who came to heal us both.
To this day I cannot imagine not having made that decision, I cannot imagine it in the hands of someone else, she came to complete us and heal. She is my downside, she is a super affectionate cat, she comes out to greet me, sleeps with me, she is always next to me and walks behind me, that's why she has nicknames like ghost or little black dog 🖤
I don't know if Catrix got to give Uma a name? since when they put the video within minutes I was contacting them